Fantastic Four 3 Cgc Fr 1.0 1st Appearance In Costume Kirby Lee (1962)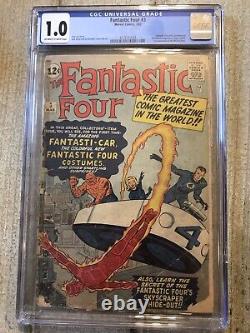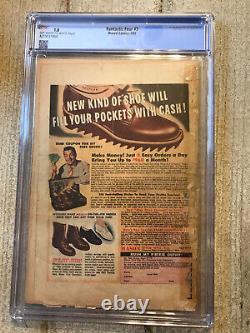 HERE IS YOUR CHANCE TO GET A CERTIFIED COPY OF FANTASTIC FOUR # 3, FROM MARCH 1962. THIS BOOK FEATURES A RETELLING OF THE ORIGIN, 1ST APPEARANCE OF MIRACLE MAN, 1ST APPEARANCE OF THE FANTASTIC FOUR IN COSTUME AND ESTABLISHING HEADQUARTERS. THIS BOOK GRADES IN AT A CERTIFIED CGC FR (1.0) WITH OFF-WHITE TO WHITE PAGES. HOWEVER, THIS COMIC CONSISTENTLY GOES FOR MULTIPLES OF GUIDE. PLEASE NOTE THAT I INCLUDE HIGH QUALITY SCAN OF THE FRONT, SO YOU CAN CHECK THE GRADE AND VERIFY FOR YOURSELF THIS BOOK'S CONDITION. MANY OF MY ITEMS HAVE THE MAKE AN OFFER OPTION, SO PLEASE FEEL FREE TO MAKE AN OFFER. INCLUDING BASEBALL CARDS , BASKETBALL CARDS , FOOTBALL CARDS , COMIC BOOKS.
SUB-MARINER, FANTASTIC FOUR, JUSTICE LEAGUE OF AMERICA, CAPTAIN AMERICA, WONDER WOMAN, SPIDER-MAN. IRON MAN, GREEN LANTERN, SILVER SURFER, LUKE CAGE, AQUAMAN, DOCTOR STRANGE. ETC, AND AUTOGRAPHS OR JERSEY CARDS. THANKS FOR LOOKING AND COME BACK SOON.

---