Fantastic Four #5 CGC 4.5 SS Signed Stan Lee Origin & 1st Doctor Doom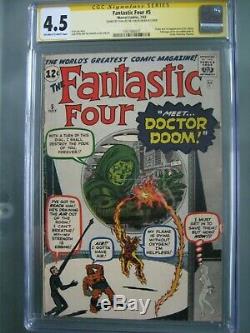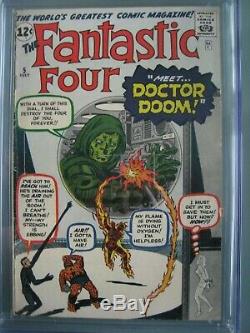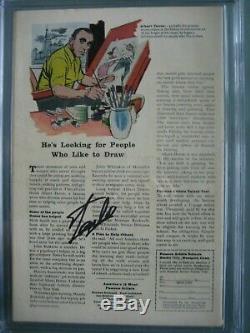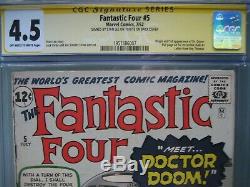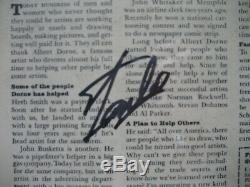 Full page ad Incredible Hulk #1. Stan Lee (Story) Jack Kirby & Joe Sinnott (Cover & Art).
Johnny, while reading an issue of The Incredible Hulk, compares Ben to the monster. Ben grabs the comic, but Johnny sets it afire. Reed and Sue stop them before they come to blows.
The lights go out, despite their emergency generator. Doctor Doom, in a helicopter, drops a net over the Baxter Building. When Doom calls out to them, Reed recognizes the voice: Victor von Doom, an old college classmate. After an experiment at university, during which Doom tried to communicate with the dead but instead caused an explosion, he was expelled.
Doom demands Sue as a hostage, and she agrees, going to the roof. The Thing agrees to this by sending off a flare. Doom lowers a cage over Reed, Ben, and Johnny and takes them to his castle. Once there, he tells them that he has invented a time machine and that they must retrieve Blackbeard's treasure chest from the past. With Sue as Doom's hostage, they must agree.
Doom presses a button, activating the time platform they were unwittingly standing on. They appear in a port, where they come across two brigands arguing over a stolen bundle of clothes. With the clothes, they disguise themselves, including a heavy black beard for Ben. Looking for someone in Blackbeard's crew, they go to a tavern.
Two pirates tell the barmaid to serve the strangers drugged grog. Ben bursts through the deck and subdues the entire crew with the help of Johnny and Reed. While Reed and Johnny haul a treasure chest out of the hold, the crew hails Ben as Blackbeard. Reed empties the chest, reminding Johnny that they only promised to bring back Blackbeard's. Not the treasure itself, and he replaces the treasure with chains.
On deck, they realize that Ben. He refuses to return with them, ordering the crew to douse Johnny, wrap Reed in a sail, and set them adrift in a lifeboat. Reed and Johnny make it to shore, where they find Ben and the chest. Doom says that the treasure includes gems enchanted by Merlin and that they will make him invincible. He opens the chest and discovers that he's been cheated, which gives Ben the opportunity to attack. A single punch shatters the armorand the machinery inside. The real Doom, in another part of the castle, activates a screen and tells them he will draw the air from their chamber. Sue, still his hostage, sees her chance. She turns invisible and short-circuits his control panel, which explodes.
Doom is caught in the blast. She runs to the chamber and opens the door. Rather than confront Doom, who Reed assumes has traps everywhere, they decide to escape. Reed stretches through a window across the moat, Ben pushes that section of wall open while Reed pulls, and Johnny uses "atomic heat" to make a path across the crocodile-infested moat. Johnny then sets fire to the castle, and Doom escapes with his Rocket-Powered Flying Harness.
Before he can catch Doom, Johnny's flame runs out. The item "Fantastic Four #5 CGC 4.5 SS Signed Stan Lee Origin & 1st Doctor Doom" is in sale since Thursday, April 4, 2019. This item is in the category "Collectibles\Comics\Silver Age (1956-69)\Superhero\Fantastic Four". The seller is "madeofmiracles925" and is located in Dublin, California. This item can be shipped worldwide.
Modified Item: Yes
Country/Region of Manufacture: United States
Certification Number: 1957486007
Issue Number: 5
Certification: CGC
Main Character: Fantastic Four
Series: 1
Country of Manufacture: United States
Year: 1962
Theme: Comics
Grade: 4.5 VG+
Type: Comic
Featured Refinements: Signed Stan Lee
Graded by: CGC
Publication Date: July 1962
Modification Description: Signature Series
Signed: Yes
Publisher: Marvel Comics
Unit of Sale: Single Unit

---